True West magazine names Double Wide the best western crime novel of 2017!
After fastball phenom Prospero Stark's baseball career​ craters in a Mexican jail, he retreats to a trailer park in the scorching Arizona desert. He lives in peaceful anonymity with a collection of colorful outcasts until someone leaves his former catcher's severed hand on his doorstep. Beautiful, hard-living reporter Roxanne Santa Cruz, who keeps a .380 Colt and a bottle of Chivas in her car, joins Stark to help him uncover his friend's fate, a dangerous pursuit that pits them against a ruthless gang of drug-dealing killers.
Published by Brash Books
now available - get your copy TODAY!
Great writing line to line. . . .
DOUBLE WIDE is classic crime in its best new clothes, Goodis-style grand failure and Chandler's streetwise knight welded to the same frame and left baking in the Arizona desert till only the essential remains. Great writing line to line, wonderful evocation of place, each sentence edged with grit and humor – here where death is another story's start-up
- James Sallis, author of DRIVE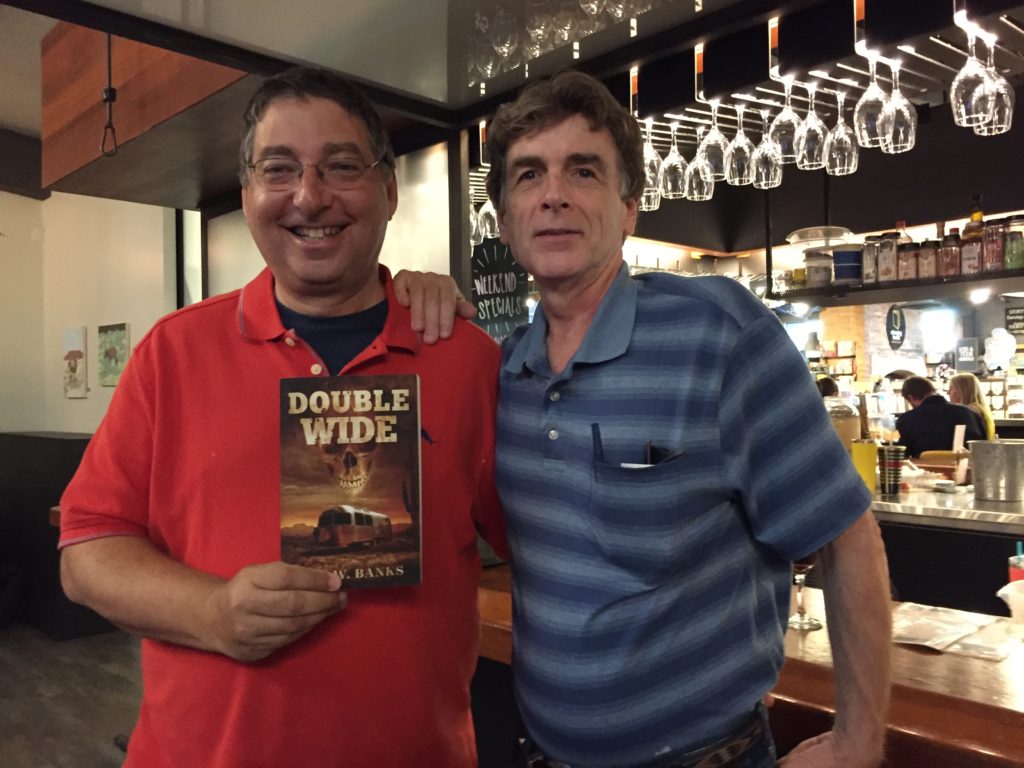 . . . . A rollicking page-turner.
DOUBLE WIDE is a rollicking page-turner. As twisted and bumpy as a desert road at night. Leo Banks crafts a fast-paced tale filled with colorful characters. He displays an excellent ear for bitter, cynical dialog and an unsparing eye for desperate characters running on empty. Read it!
- Phoef Sutton, Emmy Award-winning TV writer and New York Times bestselling author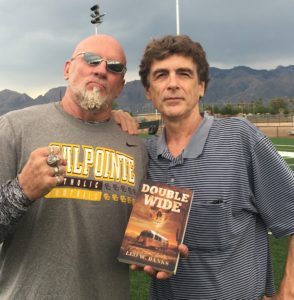 Leo with former ATF agent, best-selling author (No Angel and Catching Hell) and friend Jay Dobyns.  Jay infiltrated the Hell's Angels as an undercover agent and lived to tell about it.
Jim Nintzel of Zona Politics with Double Wide
. . . . a fast-driving thriller.
DOUBLE WIDE is a fast-driving thriller.  Dusty and wicked and satisfying.
- Bill Beverly,  winner of the Los Angeles Times Book Prize for his 2016 novel, Dodgers
. . . . so good that it's hard to believe it's a debut novel.
The book is so good that it's hard to believe it's a debut novel. Banks crafted his fast-moving plot expertly. The yarn is exceptionally well-written, Banks's descriptions of the Arizona desert so vivid that you'll rush to turn up the air conditioner, his portrayals of his colorful characters so memorable that you'll find yourself wondering what else those who survived the tale are up to once you finish the last page.
- Bruce DeSilva, Edgar Award winning author
Double Wide is so good it could bear at least one sequel
There are no eclipses in Leo W. Banks'

Double

Wide

, other than in the dark side of the human heart, yet this tale of a washed-up pro baseball pitcher living in a 1977 Airstream trailer in the Arizona desert is filled with wit.
-

Betty Webb, Mystery Scene Magazine