"Leo Banks is among the great magazine writers of our time."
- Arizona Highways, February 2003
Following is a sample of some of Leo's favorite stories over the years.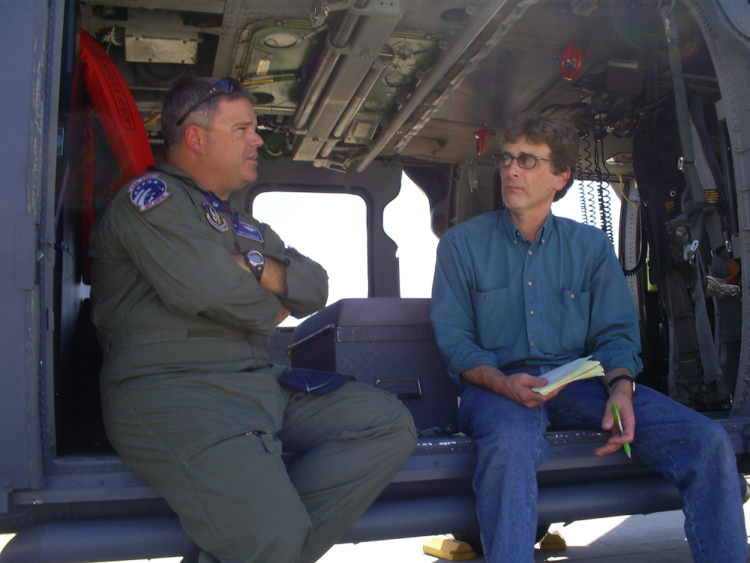 Major Jeff Peterson (left) piloted the helicopter that rescued Navy Seal Marcus Luttrell in Afghanistan 2005. Story (Navy Seal Down) appeared in the Tucson Weekly in November 2009.

During spring training in the late 1940s, when segregation prevented black ballplayers for the Cleveland Indians from staying in Tucson's hotels, team owner Bill Veeck arranged for them to stay with local families instead.  Chester and Lucille Willis rearranged their lives to accommodate Larry Doby, the American League's first black player, and the great Satchel Paige, among others.  The Willises were great people and it was a blast to sit down and talk to them.

What is there for an academic to study about a guy nicknamed "porcupine?" I'm referring to Larry of Moe, Larry and Curly fame. Jon Solomon is a distinguished professor of the classics, but what he really loves is the Three Stooges. I visited him at his home in Tucson and we practiced the Curly Shuffle together. Nyuck, nyuck, nyuck.

At 54 years old, Clare St. Arnaud, part Chippewa and part Santee Sioux, was one of America's top ultra-triathletes. He was considered the Great Red Hope, an inspiration to Indians everywhere. I traveled to Oracle, Arizona, to visit him at his trailer.

The legendary lawman did his best to put the gunfights and death from his Tombstone days behind him, spending later years along the Colorado River.

Marcus Luttrell was part of a Navy Seal team that fought a desperate battle against the Taliban in 2005. He wrote a best-selling book called Lone Survivor. The helicopter crew that rescued him was from Tucson's Davis-Monthan Air Force Base. This story will thrill you, fill you with pride, and put a lump in your throat. It was my honor to meet the men who pulled off the daring rescue. This is one of my favorites.