Tucson Weekly, March 12, 2020

My parents never had much money. Every dime counted, but I can't remember needing anything. There was love in the house, lots of books and a dog named Spanky.
My father was a math professor, but I can barely count to 10.
An author needs self-belief to keep going as long as it takes to finish a novel. Although it sounds contradictory, you need humility, too. If you don't have it at the start, you will by the time the finished book is in hand, so you might as well get a head start.
Boston has funny accents that are hard to mimic. TV and movie actors get it wrong all the time. My wife says when we go back to Boston, my accent returns and I start quacking like a duck again. I don't even notice.
The Red Sox aren't a baseball team, they're a way of life. As teenagers, we'd ride the subway to Fenway, buy a $2 bleacher seat and hop the train home. I still carry my wallet in my front right pocket because of the pickpockets.
College is becoming synonymous with indoctrination. You go into debt handing over a fortune to people who don't like you, and think the history and values you were raised with are all wrong and need changing.
Moving to Arizona gave me an entirely new perspective on the land. The open space in the West makes all the difference. In the East, every time you swing an elbow, there's somebody standing beside you swinging theirs.
Tucson gets inside you after a while. The city is surrounded by mountains on three sides, and I can tell what month it is by the color of those mountains.
An editor shouldn't leave footprints in your copy.
On the Road by Jack Kerouac is overrated. Will Zachary, the lead character in The Flying Z describes it as "narcissists in a car." He prefers another Kerouac novel The Dharma Bums, saying, "It's about freedom and the land, the only things that matter." Yes!
A good diner has good food and good dialogue. "The pie ain't so good today, doll, but the soup's hot. What'll it be?"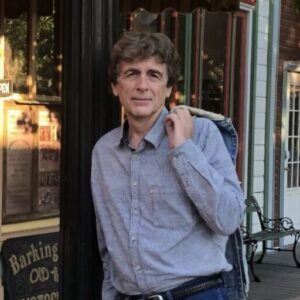 After an award-winning career in journalism, Leo W. Banks turned to fiction.His first novel, Double Wide, won two Spur awards from the Western Writers of America. His latest work, The Flying Z, is a contemporary Western crime novel that's also part love story. It describes the lives of southern Arizona rancher Will Zachary and newly arrived Harvard grad Merry O'Hara as they battle a brutal drug cartel trying to take over the ranch.
The Arizona Strip is the gateway to Grand Canyon's North Rim. It's remote and fantastic. Working for Arizona Highways for years, I wrote about the lost towns and canyons that rarely make tourist brochures. Arizona is an amazing state, but you have to be willing to follow the dirt roads wherever they lead.
Writing fiction is like working drywall. The more you do it, the better you get.
A Western novel or movie is how we learn about ourselves. For good or ill, our westward expansion teaches us all we need to know about the American character.
A mystery novel is supposed to be a whodunit. But one of the best to ever do it, Raymond Chandler, couldn't plot at all. His power was the way he used the language. In Farewell, My Lovely, he described one of his characters as "a blonde to make a bishop kick a hole in a stained-glass window." Oh, man!
Marriage is a blast if you're married to a goddess like I am.
What history has taught me is that the past is close by. After my father died, I found letters he wrote home during World War II, one penned the night of June 6, 1944, from a foxhole on Utah Beach: "Although I'm dirty and tired, I never felt better in my life." History doesn't get closer than that.