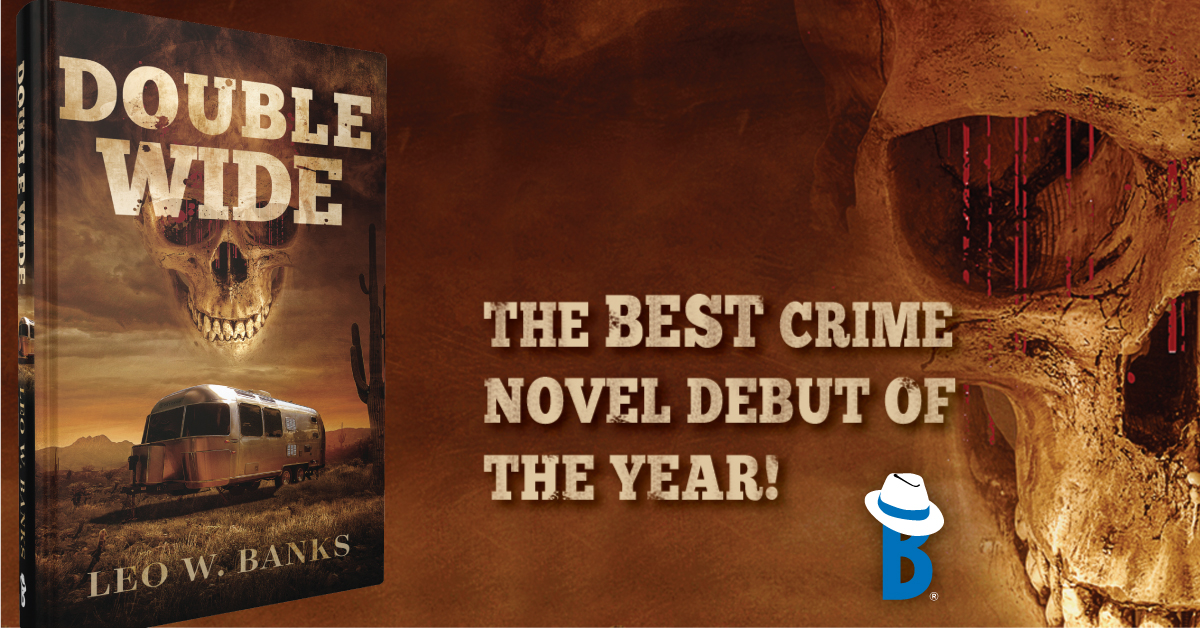 Banks's strong noir debut will remind many of early Joe Lansdale. Prospero "Whip" Stark, a former professional baseball pitcher, has retreated to a trailer park, population eight, in the Arizona desert, after a drug bust led to his doing time in a Mexican jail. One hot, stormy summer day, he opens a box that mysteriously appeared outside his trailer. Inside is a severed hand that he recognizes as that of former catcher Rolando Molina, a close friend, whom he last saw two years earlier outside a rehab center in Malibu, where Rolando was being treated for cocaine addiction. Whip and neighbor Opal Sanchez follow car tracks to a bluff, where he discovers a body that at first appears to be Rolando's—but it's not missing a hand. Whip later joins forces with reporter Roxanne Santa Cruz to find his baseball buddy, dead or alive. Opal's disappearance raises the stakes. Since he's new to this kind of work, Whip turns to his vast library of pulp detective fiction for guidance. Smart dialogue helps propel the tight plot.
Phoef Sutton
DOUBLE WIDE is a rollicking page-turner. As twisted and bumpy as a desert road at night. Leo Banks crafts a fast-paced tale filled with colorful characters. He displays an excellent ear for bitter, cynical dialog and an unsparing eye for desperate characters running on empty. Read it!
Phoef Sutton, New York Times bestselling author (Wicked Charms, Curious Minds) and Emmy-award winning TV writer (Cheers, Boston Legal).
After an injury blew up his once-promising professional baseball career, Prospero Stark sunk what was left of his money into a ramshackle trailer park just over the mountains from Tucson in the unforgiving Arizona desert. There, he took up residence in a battered Airstream beside a handful of outcasts who only occasionally paid the rent, and two dogs, one of whom hobbled on three legs thanks to a bullet fired by drug smuggler whose route wound down a wash not far from his property.
Stark fell into a routine of making breakfast for his tenants, caring for the dogs, vainly trying to keep cool, and ducking the occasional thunderstorms and flash floods that appear out of nowhere.
Then, one day, someone driving a pickup truck dropped a shoebox on his doorstep.
Inside, Stark found a severed human hand that, judging by its tattoos, could only belong to Rolando Molina, his catcher and best buddy during their time in the minor leagues. He wrapped the hand in a plastic bag, dropped it in his freezer, and followed the truck's tracks through desert, hoping to find what had become of his friend. Before long, he came upon a wrecked truck and a bullet-riddled body that was not Rolando's,
Certain that his old teammate had been killed, Stark vowed to find the body and bring it home to the Molina family.
So begins Double Wide, a new crime novel by Leo W. Banks – a book with a plot that includes a machete-wielding drug smuggler, an abandoned gold mine, a sleazy sports agent, the Tucson minor league baseball team, an aging stripper, a mountain-top ghost town, a brilliant chemist, an enormous bouncer, a thuggish body guard, a natty Tucson police detective, a terrified homeless child, money laundering, a murder epidemic, a young pitching phenom, a relentless local TV reporter, cactus spikes as a weapon, and the amazing chemical properties of the Palmer agave plant.
Out of all this, and more, Banks crafted his fast-moving plot expertly, culminating in Stark and the TV reporter not only figuring out what had been going on but concocting an ingenious plan to take down the bad guys.
The yarn is exceptionally well-written, Banks's descriptions of the Arizona desert so vivid that you'll rush to turn up the air conditioner, his portrayals of his colorful characters so memorable that you'll find yourself wondering what else those who survived the tale are up to once you finish the last page.
Longtime Tucson Weekly contributor Leo W. Banks pens a sizzling debut novel about Prospero Stark, a former big-league ballplayer who is minding his business as the operator of a desert trailer park when his former catcher's hand ends up in a box on his porch. Stark sets up to find out what happened to his erstwhile teammate and gets drawn into a web of drug smugglers and other bad hombres. Banks, a longtime lover of classic mystery writers such as Raymond Chandler and Jim Thompson, told the Weekly he set out to "to write the kind of book I like to read. Plenty of humor, nothing too deep, nobody rattling on about the human condition—a book that can make you believe in murder again. Most importantly, I followed the one unbreakable rule, the four-word secret ingredient—stuff has to happen." Banks succeeds in emulating the classics—much to our delight. More, please.
Prospero Stark was once a baseball phenom.
But after a stint in jail, he changed his pace, opting to live in an airstream trailer park in the Arizona desert.
It's there that he receives a gruesome package … the severed hand of his former catcher.
This is the jumping off point for Leo Banks' novel, "Double Wide," the focus of this month's Southwest Book Review. KNAU's Mary Sojourner has more.
Whiplash Stark once struck out A Rod and Jeter in the same inning.
Then, there was the coke bust, his dad's arrest for murder, and now he is the scraping-to-get-by landlord at Double Wide, a collection of scruffy Airstreams and trailers in the desert near Tucson.
His life jolts into a potential last inning when he finds a package containing a severed hand tattooed with the name Mary and a carefully inked portrait of the Blessed Virgin's face.
Whip knows who the hand belongs to. Rolando Molina, his catcher … and his close friend. He knows what he has to do.
In "Double Wide," Leo W. Banks, award-winning western historian and Tucson writer, has done what he has to do: write skillfully and with deep love for the Arizona desert and his characters. Whip Stark, his beloved black labs, Chico and Bundle;  his non-paying tenants, Opal, Tohono O'odham run-away; Cashmere Miller, only slightly addled shade tree mechanic and sharp-shooter; Charlie O'Shea, a sweet lush with a fondness for Hawaiian shirts, are joined by fast-mouthed TV reporter, Roxane Santa Cruz in a race against drug cartel evil to find out who killed Rolando.
Banks knows baseball and police work. He knows the worlds of the desert women, men and kids who live under the radar of entitled society—and he writes that world without sentimentalism or judgment.
He writes about alcoholism and addiction with near-surgical understanding—and kindness. He writes about professional baseball with the same merciless grace.
I'm not a baseball fan, but I found myself at 3:30 a.m. riveted by Banks' account of a decisive game, in which Whip pitches not only for his own pride, but for his imprisoned father and to expose the reality of corruption within the sport.
I am a devoted fan of the Southwest's deserts, towns and beleaguered cities.
Leo Banks devotes as much of his craft and deep perception to the setting of "Double Wide" as he does to his plot and people.
Here is the desert outside Tucson: "I reached a meadow overlooking a huge expanse of the San Manuel Valley. The hills were burned and brown where the meadow fell off, and they flowed steadily down into deep canyons that made the ground disappear, and towering stone ridges that brought it back again."
And here is Tucson: "Oracle Road was loud and clogged. I passed a sales lot brimming with new cars and blowing flags … parked cars, cars moving an inch at a time, brake lights shining, horns blaring." If you know that desert and that city, you'll know that in "Double Wide," Leo Banks has done them justice.
Mary Sojourner

James Sallis
DOUBLE WIDE is classic crime in its best new clothes, Goodis-style grand failure and Chandler's streetwise knight welded to the same frame and left baking in the Arizona desert till only the essential remains. Great writing line to line, wonderful evocation of place, each sentence edged with grit and humor – here where death is another story's start-up
– James Sallis, author of DRIVE
There are no eclipses in Leo W. Banks' Double Wide, other than in the dark side of the human heart, yet this tale of a washed-up pro baseball pitcher living in a 1977 Airstream trailer in the Arizona desert is filled with wit.
His career long tanked, Prospero "Whip" Stark stays financially afloat by renting out space in Double Wide, his small, self-owned trailer court. One morning someone leaves an amputated human hand in a box on the Airstream's doorstep. By studying the tattoos on the hand, Whip realizes it belongs to pitcher Rolando Molina, his onetime catcher and longtime friend. The day gets even worse when Whip comes across a dead man near Paradise Mountain, one of the major routes for the area's drug traffickers as they make their way from Mexico into the US. But the dead man is a stranger, and he has both his hands. Probably a drug mule, Whip figures. Deciding to let the authorities deal with the problem, he commits himself to finding the rest of his friend Rolando.
The plot of Double Wide delivers a lot of drug cartel, baseball, and agave cacti information, all of which is interesting enough. But where Double Wide really shines is in its characters. Softhearted Whip is a novelist's dream protagonist: a once-famous sports figure who is now perfectly content to spend his time rescuing downtrodden drunks, teenage runaways, and women who are no better than they should be.
While some of the book's other characters may be a bit over-the-top, such as the hard-drinking TV anchorwoman, few readers will mind because they are all so much fun. My personal favorite is Whip's father, a once-renowned college professor who may or may not have murdered a prostitute while in the throes of his heroin addiction. The loyal Whip makes a weekly 200-mile round trip to visit his jailed father while he awaits his trial.
By the end of the book (I'm not giving anything away here) Dear Old Dad is still in lockup. But that's good news, because maybe Whip can spring him in a sequel. I certainly hope so, because the half-hilarious, half-somber Double Wide is so good it could bear at least one sequel. Maybe even a dozen.
Betsy Webb
With "Double Wide," Leo Banks has ventured into a new profession — thriller author. His writing style will remind readers of Robert Crais, specifically his Elvis Cole series. The colorful characters have great banter between them, often showing their cynicism of the world.
Thirty years ago, Banks traveled with the Mexican Baseball League, joining his friend who was a pitcher on the team. "I used that experience as a springboard for my book 'Tequila Sunday.' Now, 30 years later, I rewrote the plot using the characters I have had in my head for quite awhile."
The main character, "Whip" Stark, is a former professional baseball pitcher who squanders his talent and money on drugs. After doing time in a Mexican jail he buys an abandoned trailer park west of the Tucson Mountains. He is leading a recluse's life until someone leaves him a box with a severed hand. Thinking it is a former catcher, Rolando Molina, Stark vows to find the body and bring it home. He joins forces with reporter Roxanne Santa Cruz to find his baseball buddy.
Using his vast experiences as an Arizona reporter, Banks is able to give a vivid picture of the Arizona desert and citizenry. A quote in the book shows how Tucson is a weigh station for drug smugglers with its rugged terrain and decoy loads. "The drug trade has burned a hole through Tucson's innocent heart."
Banks noted, "Tucson and Phoenix are drug smuggling hubs. Having lived in Tucson for almost forty years I know that drug shootings are pretty frequent. Although illegal immigration has lessened, drug smuggling has not diminished and has actually become better and more efficient. They are still poisoning people with their junk."
It is hard to believe that this is Banks' debut novel. Blending together the drug cartel, baseball, and an abandoned gold mine allows for a fun crime plot.
Elise Cooper
After pitching phenom Whip Stark squanders his talent and money over his penchant for drugs and a widely publicized stay in a Mexican jail, he buys an abandoned trailer park west of the Tucson Mountains where he wiles away the days waiting for his next inning. Other than the outcasts he's collected, his only neighbors are the drug runners barreling over the pass, who he adroitly dodges. That is until he finds the severed hand of his former catcher on his doorstep.
Featuring a gaudy cast of characters — including an absent-minded professor, a damaged sexy newscaster, strippers, narcos, agaves and a dancing spitball called, El Bailador — this farcical drama goes the distance against the backdrop of Corbett Field and the mean streets of Tucson.
Banks is an award-winning local journalist and on top of his game in his debut novel where the boy finds true love, salvation and a diving spitter.
"Double Wide" is perfect reading for a coast to coast flight. You can put it down and reenter this book and not lose track of the story line. The author has a well-earned reputation in nationwide publications, with noted articles in venues such as the LA Times, USA Today and Sport Illustrated. He also has written Western history for Arizona Highways magazine and contributes a column for True West magazine. He writes about what he knows.
This recent release goes in a bit of a different direction. The setting is Southern Arizona. The main character is a finished baseball pitcher who resides in the desert in his carved-out space he calls Double Wide. His life turns upside down with the delivery of a gruesome nature … a severed hand of his former catcher. What follows is his harrowing pursuit to discover the fate of his former battery mate, abetted by a jaded female reporter who sports a .38 Colt.
Banks pieces it all together quite well, which comes as no surprise as this reviewer, a colleague, has happily read him for years. Put it high on your list as an entertaining fictional account steeped in Arizona familiarity.
Scott Dyke
People with Double Wide